http://training.seobook.com/google-ranking-value memaparkan serta Memetakan bagaimana Seharusnya Merangking kata Kunci di Google. Apa saja yang penting lalu penggunaannya harus bagaimana. MIsal nih dalam data merangking:
While
earlier research
showed more focus on head keywords, in January of 2007 OneStat
shared
search volume breakdown by number of keywords in the search query for 2 million website visitors. From their data 4 word search queries were more popular than 1 word queries.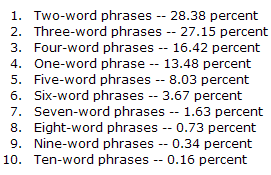 In early 2008 Google's Avinash Kaushik
stated
that the average Google query consisted of 4 words.
Jadi misal mau merangking kata kunci, mainlah di dua atau tiga kata kunci sekalian.